Posted on February 16, 2015
No. 1 Thomas More Focused On Winning, Not National Ranking
By John D'Abruzzo
Rankings and records don't mean a whole lot to Jeff Hans.
Despite the fact that his Thomas More women's basketball team remained undefeated as of Feb. 15 and recently took over the No. 1 spot in the NCAA Division III national polls, Hans was simply satisfied that his group has continued to improve throughout the course of this season.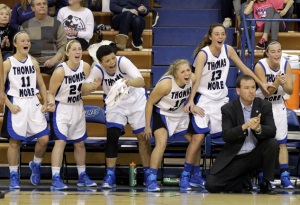 "We've been getting better with every practice and every game, and that's what we wanted to do coming into the season," said Hans, who is in this fourth year coaching in Crestview Hills, Ky. "We came in with a lot of new players and have become more acclimated to the college game, so we've seen some steady progress every day. It's been fun to watch."
Following a 91-70 victory over Washington & Jefferson College on Feb. 14, the Saints improved to a perfect 23-0 overall record with a 16-0 mark in the Presidents' Athletic Conference. Thomas More spent the majority of the season ranked No 2 in both the USA Today Division III Top 25 women's basketball poll and the D3hoops.com women's top 25, but it claimed the top ranking after previous No. 1 FDU-Florham suffered an 88-87 upset loss Feb. 7 against Eastern University (St. Davids, Pa.).
"[The national ranking] is only a distraction if we allow it to be a distraction," said Hans, who earned his 100th win at Thomas More on Jan. 24 against Waynesburg. "We don't talk about it. Polls are good for the program and it presents the program with good attention. They get us to that point but we still keep going."
"The polls and our record don't mean anything if we don't perform on the court."
Dating back to an overtime loss against Calvin College in 2012, Thomas More has won 69 straight regular-season games. The Saints also have a conference regular-season record of 148-7 since they joined the PAC in 2005.
Through 23 games this season, Thomas More was outscoring its opponents by an average of 86.6-49.8.
"We're playing basketball like it's supposed to be played," Hans said. "We're playing hard and we're playing as a team. We might have some lapses, but the young ladies are playing well together on both ends of the floor and playing at a fast pace."
Sydney Moss, a 5-foot-10 junior guard/forward, has played a crucial role in the Saints' success this season. Moss, who scored a season-high 43 points against W&J, has been the conference's leading scorer this season with an average of 21.6 points per game. She's also averaging 6.9 rebounds and 3.7 assists.
"She gets better each and every day," Hans said. "She's a great player, a great teammate and a great person."
Thomas More also has been getting a lot of production out of freshman forward Nikki Kiernan (11.5 points/6.3 rebounds), freshman guard Abby Owings (10.2 points), junior forward Alexa Santamaria (8.2 points), senior guard Sydni Wainscott (8.1 points) and junior forward Sam Cady (5.9 points).
"The mentality of our players really has been remarkable," Hans said. "They don't like to lose, and we see it with every drill in practice. They love the competition and it carries over onto the floor during games.
"They're playing the game of basketball the way it's supposed to be played and having fun playing. That has made it fun to watch."
Thomas More continues PAC action Feb. 18 when it hosts Chatham University at 5:30 p.m. at the Connor Convocation Center. The Saints will wrap up their regular season schedule Feb. 21 against St. Vincent College in Latrobe, Pa.
"The biggest key for us is to stay healthy," Hans said. "At this point, you have the typical aches and pains."
"I don't think we've reached our full potential. We have some young players still battling and trying to figure out what they can do and can't do. We're going to have to see how everything plays out over the next few weeks."