Posted on February 22, 2015
W&J's Nick Carr Driving Toward National Title
By John D'Abruzzo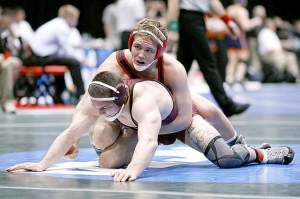 Competition is all Nick Carr continues to search for every time he takes a wrestling mat.
Considered the nation's top NCAA Division III wrestler at 157 pounds, Carr has found that being ranked No. 1 in his weight class comes with very little perks.
"Sometimes your opponent looks at you differently because of that ranking," he said. "Opponents sometimes back away from me and immediately think they can't flat out beat me, so they try to avoid wrestling me."
A junior member of Washington & Jefferson College's wrestling team, Carr has been recognized as the top wrestler in his weight class all year by the National Wrestling Coaches Association and d3wrestle.com. He, however, hopes his future opponents present more of a challenge once he begins his journey toward a national championship.
Carr enters the Mideast NCAA Division III regional tournament March 1 in Mechanicsburg, Pa., with a 19-0 record. He recently captured his first Presidents' Athletic Conference title Feb. 13 during the 56th Annual PAC Wrestling Championships. Carr pinned Thiel College's Sean Byham in 2:24 during the first round before earning a 6-2 decision against Waynesburg's Chris Milligan in the finals.
"Nick is great in all three positions on the mat," W&J coach Tommy Prairie said. "We're excited for him to get ready for the nationals at this time of year. He's a great leader for the team and he elevates the room with his abilities and leadership."
For the most part this season, though, Carr found himself facing opponents who'd rather back away from wrestling him in an effort to keep matches close in order to save points.
"You train to come out and be confident, and then end up facing guys who come at you halfway," said Carr, who is a 2011 graduate of South Fayette High School. "To me, that's a cowardly approach and a waste of my time. There ends up being no flow to a match."
"Wrestling isn't supposed to be like a cat chasing a mouse and that makes it more exciting. From my perspective, I want to face someone who actually feels they can beat me. That makes it more fun and engaging. It's important to wrestle and not just try to run away and avoid getting beat."
In high school, Carr wrestled at 145 pounds. He accumulated a 128-17 record, won three WPIAL championships and captured a PIAA Class AA state title during his junior year. After earning a Division I scholarship to Kent State, Carr went 21-10 at 149 pounds during his redshirt freshman year with the Golden Flashes.
"Out of high school, I was good and probably in my prime during my freshman year of college," Carr said. "I got to the level I wanted to be at and elevated myself. I was able to get better but pretty much maintained where I wanted to be."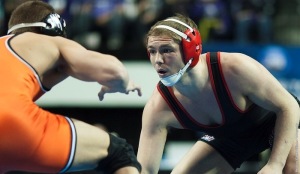 Carr, however, found out that Division I wrestling wasn't for him and decided to transfer to Division II Seton Hill. Carr did not wrestle in a varsity match at Seton Hill and opted to transfer to W&J.
"Wrestling at the Division I level felt more like being inside of a cage," said Carr, who is majoring in communications at W&J. "I wasn't able to truly experience the college experience. It was more of a job than anything and I found it more difficult to concentrate on school."
"Wrestling now [at W&J] is more laid back. The coaches are much more supportive."
Since W&J had a veteran and eventual conference champion in Josh Etzel at 157 pounds last year, Carr wrestled up at 165 pounds and went 12-1. He also finished as the Division III runner-up and earned All-American honors.
"Nick came in last year and was a national finalist," Prairie said. "This year, he has displayed leadership in the offseason and helps us with our conditioning and lifting. Having an All-American elevates our room."
"Coming into the year ranked No. 1, he had that target on his back all year. He's prepared himself and went about everything the right way in order to compete."
Carr isn't the only member of his family experiencing success with the Presidents this season. His younger brother, Seth, won a PAC title at 125 pounds with a 10-5 decision over Thiel's Vince Vahaly after an 8-4 win over Waynesburg's Gordan Bieber in the second round. The younger Carr transferred to W&J last spring after earning a scholarship to Division I Clarion.
The Carr's youngest brother, Mike, who is a junior at South Fayette, recently won his 100th high school victory. The Carrs are now one of nine families in WPIAL history to have three brothers with more than 100 high school wins.
"We all started wrestling at age six," said Nick Carr, whose older brother, Nathaniel, as well as their father, Michael, also wrestled at South Fayette. "We all bonded as a family through wrestling. Sometimes it can be overwhelming because it's all we talk about.
"It is pretty interesting that we're all into it. It must be good genetics."