Posted on March 1, 2015
Bearcats, Saints Repeat As PAC Champions
By John D'Abruzzo
Saint Vincent College and Thomas More College prevailed last Saturday as each school defended its respective Presidents' Athletic Conference men's and women's basketball championship.
The Saint Vincent men's team captured its third-straight conference title, while the ladies from Thomas More chalked up an impressive ninth consecutive PAC crown.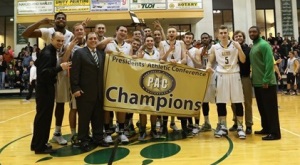 Hosting the men's final at the Robert S. Carey Center in Latrobe, Pa., the Bearcats earned a 73-66 win over No. 2 Waynesburg University. They also became the first men's team to win three straight PAC championships since Washington & Jefferson College won four consecutive titles from 1992-95. Saint Vincent (22-6) entered the championship game following wins against No. 8 Westminster in the quarterfinals and No. 4 Thomas More in the semifinals.
"We expect to win here," Saint Vincent men's coach D.P. Harris told the PAC Sports Network following the game. "Our coaches work very hard, and our players get after it and work every single day. Each [championship] is special."
Senior forward Sean Kett led Saint Vincent with a team-high 19 points, nine rebounds and three assists against the Yellow Jackets. Junior guard Pat Jones followed with 14 points and six boards,while junior guard Ben Klimchock added 11 points. Junior guard Jaylon Bell also chipped in with 10 points and seven rebounds.
"Sean played awesome and Pat Jones hit some big shots," Harris said. "You can't count Benny out, either, but across the board all of our guys came through for us."
Byrum Louco, a senior guard, paced Waynesburg (18-10) with a game-high 21 points and added eight rebounds. Senior forward Jacob Fleegle followed with 13 points. After beating No. 7 Grove City in the quarterfinals and then No. 3 Bethany in the semifinals, Waynesburg made its first championship game appearance since 2006.
Saint Vincent and Waynesburg went into halftime tied at 29. The Bearcats, however, went on a 7-2 run after five minutes into the second half and held on to that lead for the rest of the game. The championship contest also marked the third meeting between the two programs. During the regular season, Waynesburg slipped past Saint Vincent at home, 66-65, but lost on the road, 71-60.
"It's a brotherhood here at Saint Vincent and I'm really happy for these guys," Harris said. "[Before the game], I got 20 phone calls from former players wishing us good luck.
"It's about family, and when you come here to play you know you're going to win championships. That's what we recruit on and how we sell our school. I haven't had a kid play for me who hasn't played in either the NCAA or NAIA tournament."
The Bearcats advance to the NCAA Division III championship tournament, which tips off March 6.
"We need to go deeper into our bench," Harris said. "We have to have a good scouting report on who we play and have a little more continuity in our offense.
"Defensively, we're a really good basketball team and as good as any team in the country."

Saints Celebrate Ninth Title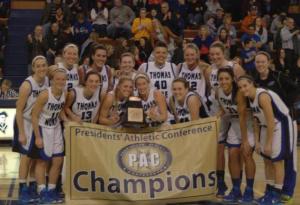 The Thomas More women's basketball team continued its dominance this season with a 75-65 victory last Saturday afternoon against Saint Vincent at the Connor Convocation Center in Crestview Hills, Ky. The top-seeded and undefeated Saints (27-0) captured their ninth consecutive PAC championship and also remain the No. 1 women's NCAA Division III team.
Saint Vincent (22-5), which entered the tournament as the No. 2 seed,  jumped out to a 14-7 lead early in the game before Thomas More answered back with a 22-2 run en route to taking a 40-29 lead at the half. The Saints opened the second half with a 13-7 run and never looked back.
Sydney Moss, a star junior guard/forward, led Thomas More with 28 points, eight rebounds and four assists against the Bearcats. She scored 21 points in the first half. Freshman forward Nikki Kiernan came off the bench to add 14 points and seven rebounds.
The night before the championship game, Moss was named the PAC Player of the Year honors for the second straight season after averaging 22 points a game. She is the sixth women's player to earn multiple PAC Player of the Year awards.
Saint Vincent was led by Taylor Mathers, a graduate forward, who scored 18 points and had seven rebounds. Senior guard Ally Schmidt also chipped in with 10 points and four rebounds.
Thomas More earned its title game appearance following a 93-42 win over No. 5 Grove City in the semifinals, while the Bearcats made their first championship appearance since the 2012 season after beating No. 3 W&J in the semifinal round.
The Saints advance into the NCAA Division III championship tournament March 6 for the seventh-straight year.