Posted on March 4, 2015
NCAA 1st Round Preview: St. Vincent vs. Bates College
By John D'Abruzzo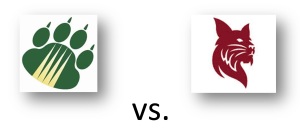 The Big Dance starts this weekend and the Saint Vincent College men and Thomas More women's teams both received their invites for the NCAA Division III championship tournaments.
In men's action, Saint Vincent (22-6) earned the Presidents' Athletic Conference's automatic bid for the third-straight season after posting a 72-66 victory against Waynesburg University in last weekend's PAC championship. The Bearcats will face Bates College from Lewiston, Maine, on Friday at Stockton University, in Galloway, N.J. Tipoff is set for 5:30 p.m.
Bates (19-6) is making its program's first appearance in the NCAA tournament. The Bobcats won an at-large selection after losing in the quarterfinal round of the New England Small College Athletic Conference Tournament to eventual champion Wesleyan University.
Under sixth-year coach Jon Furbush, the Bobcats enter this game averaging 68.8 points a game. They went 7-3 in the NESCAC this season and are coming off a 66-59 loss on Feb. 21 against Wesleyan, Conn.
With a mix of veterans and underclassmen, Bates College should present a well-balanced offensive attack. Graham Safford, a 6-foot-1 senior point guard, paces the Bobcats with an average of 15.2 points, 6.3 assists and 5.4 rebounds. Mike Boornazian, a 6-5 junior guard, is averaging 15.1 points and five rebounds, while 6-7 sophomore forward Marcus Delpeche follows with a steady 9.2 points and 6.8 rebounds. Billy Selmon, a 6-2 senior guard, also is chipping in with 7.3 points.
Saint Vincent is riding an eight-game winning streak since last losing to Waynesburg University by one point on Feb. 4. Pat Jones, Sean Kett and J.C. Howard have been Saint Vincent's top scorers this season. Jones is averaging 13.3 points, while Kett (13 points and 7.4 rebounds) and Howard (11.8) also have been averaging double figures.
The winner of this game will face the winner of Stockton (22-5) and Endicott College (23-5) on Saturday. Second-round winners advance to the sectional round March 13.
Tomorrow we'll preview the first round matchup between the No. 1-ranked Thomas More women and the Greensboro College Pride.