Posted on March 5, 2015
NCAA 1st Round Preview: Thomas More vs. Greensboro College
By John D'Abruzzo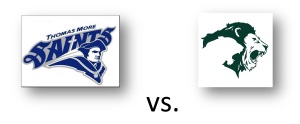 Undefeated Thomas More (27-0) enters as the top-seed after finishing the regular season as the No. 1-ranked team in the nation. The Saints are making their 13th appearance in the tournament and will be one of four undefeated teams competing for a national title.
Thomas More was selected to host this weekend's first two rounds and will play Greensboro College (24-4), from North Carolina, on Friday night. Tipoff for this contest is set for 7 p.m at the Connor Convocation Center in Crestview Hills, Ky.
This will be the second meeting between the two programs since Thomas Moore defeated Greensboro, 76-63, in the first round of the 2007-08 NCAA tournament.
Winners of the USA South Athletic Conference champions, the Pride earned an automatic bid and are making its sixth national tournament appearance and first since 2010. Under sixth-year coach Randy Tuggle, Greensboro went 16-3 in the USASAC and enter this matchup riding an eight-game winning streak. The Pride also are averaging 71.1 points per game.
Thomas More will have to keep and eye on Greensboro's Tiffani Stephens. A 6-4 senior center, Stephens earned conference tournament MVP honors last week and is averaging 10.8 points, 7.7 rebounds and 3.4 blocks. Shanita Hamilton, a 5-5 senior guard, leads the Pride in scoring this season with 13.6 points and 4.7 assists.
Sydney Moss, a star junior guard/forward, will likely play a big factor for Thomas More this weekend. Moss earned her second consecutive PAC Player of the Year Award last week and is averaging  22 points with 6.7 rebounds and 3.8 assists. Nikki Kieman (11.5 points) and Abby Owings (10.6) also average double figures for the Saints.
Thomas More is coming off a 75-65 victory last Saturday against Saint Vincent and secured the program's ninth consecutive PAC championship.
Besides this game, Thomas More also will host games between Eastern Mennonite University (22-4), an at-large selection out of the Old Dominion Athletic Conference, and La Roche College (22-5), which won of the Allegheny Mountain Collegiate Conference. That game will be played at 5 p.m. on Friday.
The winners of those first-round games will play Saturday. Second-round winners will advance to one of four sectional sites March 13.
The national semifinals and championship games for both the men's and women's tournaments will be played at Van Noord Arena on the campus of Calvin College in Grand Rapids, Mich.