Posted on April 1, 2015
Thomas More Caps Perfect Season With National Title
By John D'Abruzzo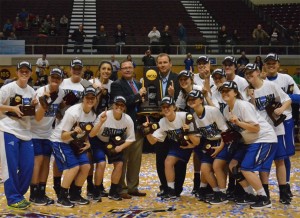 Through 33 games, no one could outmatch Thomas More College's women's basketball team.
As each opponent tried to challenge or rattled the Saints, all of them failed.
In the end, Thomas More stood alone undefeated with a perfect record and holding the national championship trophy.
"From the first day of conditioning, winning is the only goal on our minds," freshman guard Abby Owings said. "We wanted to be the last ones to win."
Top-ranked Thomas More (33-0) defeated No. 3-ranked George Fox University on March 21 in the NCAA Division III national championship game, 83-63, in the Van Noord Arena on the campus of Calvin College in Grand Rapids, Mich.
"From where we were last year, that we could go to getting here with everything that has happened all throughout the year, I couldn't be more proud of this group," Thomas More coach Jeff Hans after the championship game.
The Saints' star junior guard/forward Sydney Moss registered her first career triple-double against George Fox. Moss had 16 rebounds and 11 assists to go with her 19-point performance.
"A lot of my shots were right there, but not quite going in," Moss said after the game. "I was forcing it a little at the beginning. I took it upon myself to post up when smaller guards were on me and to drive to the rim when they put post players on me."
Owings followed Moss by scoring 17 points, while freshman forward Nikki Kiernan added 16 points and junior forward Alexa Santamaria chipped in with 14.
"We all stayed together and played as team all season," said Owings, who earned all-tournament honors. "It can be easy at times to go your own way on the court, but we stayed together and played well as a team. That's what we focused on all season."
After winning the Presidents' Athletic Conference crown for the ninth-straight season, Thomas More cruised through the NCAA Division III tournament with victories over the eighth-ranked Washington University-St. Louis, second-ranked University of St. Thomas, fifth-ranked Tufts University and third-ranked George Fox.
"It's kind of surreal, like what's next and who are we going to beat next?" said senior guard Sydni Wainscott after the championship game. "But this is it. We all played so hard all year. This was our goal and our destination. Since we were little girls, this is your dream as an athlete.
"As a senior, how many get to win the last game they ever play?"
Competing through the first half of the season ranked No. 2 in the national rankings, Thomas More moved up into the top spot Feb. 15 and finished ranked the No. 1 women's NCAA Division III team. That national honor, however, never presented a distraction for the Saints.
"[Hans] brought that up to us during practices and reminded us that none of that meant anything," Owings said. "We wanted to be the best anyway and that's what happened. We knew teams were coming after us and it seemed like every team we played gave us their all to try to beat us."
Following the championship game, both Moss and Hans were honored by D3hoops.com and Women's DIII News. Moss was named the NCAA Division III National Player of the Year, while Hans was selected as the Division III National Coach of the Year.
Moss led the nation in points this season with 24.2 and led the Saints in rebounding with 7.6 boards a game. She also set an NCAA all-division women's or men's scoring record with 197 points in six NCAA tournament games. Sheryl Swoopes held the previous record.
"It's awesome playing with her," Owings said. "I've never played with someone who has the skill set like she does. People think it might be the Moss show out there, but she's not like that at all. She knows its a team game and works hard to get her teammates the ball.
"It's been awesome to be her teammate."
Owings finished her freshman campaign averaging 11.1 points and 2.5 assists a game. Fellow rookie Kiernan averaged 10.9 points and 6.7 rebounds.
As a team, Thomas outscored opponents by an average of 85.5-52.7. The Saints led the nation in scoring margin (32.8), assist-turnover ratio (1.40) and turnover margin (12.12). They also averaged 14.6 steals per game, 18.5 assists and shot 45.4 percent from the field.
The NCAA championship is a first by a member of the Presidents' Athletic Conference since Bethany College's men's soccer program won a national title in 1994.
"It's a total team effort," Hans said. "It's not revolved around one person or two people.It's everybody.
"That's the one thing about this group with our depth, it's someone different every night."