Posted on April 9, 2015
PACSN's Randy Gore Nominated For Two Associated Press Awards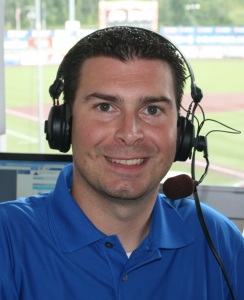 The PAC Sports Network's Randy Gore was nominated for two awards by the Pennsylvania Associated Press Broadcasters Association this week.
Gore was recognized by the PAPBA for two news stories that aired on WJPA 95.3 FM in 2014 and is amongst the preliminary list of winners in the Spot News category.  The final list of winners will be announced at the annual PAPBA Awards Banquet on May 31 in State College, PA.
This is the second time in the last year that Gore has been recognized for his work. Gore, who is also the "Voice of the Washington Wild Things" minor league baseball team, was awarded the Frontier League's Commissioner's Award of Excellence this past September for his outstanding service to the community. Gore was instrumental in organizing the Wild Things Ovarian Cancer Awareness Night, which is now an annual event at CONSOL Energy Park.
In addition to 11 Associated Press awards for his news and sports coverage, Gore is also a two-time recipient of the Frontier League's Broadcaster of the Year Award, taking home the honor in 2008 and 2011.
Gore is the owner and a broadcaster for the PAC Sports Network which recently wrapped up its fourth season broadcasting the PAC Basketball Game of the Week for the Presidents' Athletic Conference this winter at www.pacstream.net.