Posted on November 4, 2015
PAC Women's Soccer Championship Preview: Thomas More vs. Grove City
By Justin Zackal
Stop us if you've heard this before: Grove City will play Thomas More in the PAC women's soccer championship game this Saturday. This will be the fourth straight year each team will play in the finals.
Stop everything. That's what Thomas More has virtually done to get here again.
Thomas More (16-0-2), the tournament's top seed and 10th-ranked team in the nation, has allowed just two goals all season to lead the country in scoring defense (.114 GAA).
The Saints will host third-seeded Grove City (11-5-2) in Saturday's championship game at BB&T Field in Crestview Hills, Ky. (game time to be determined).
Thomas More beat Grove City in each of the last three PAC title games, as the Saints have won four straight PAC crowns and five overall. Grove City hasn't won a PAC title since 2001.
Here are three reasons why each team will win:
WHY GROVE CITY WILL WIN

Grove City is one of two teams (Case Western Reserve) NOT to lose to Thomas More this year. The Wolverines played the Saints to a scoreless tie in Grove City on Oct. 21 behind senior goalkeeper Nicole Lapia's seven saves.
If Saturday is a repeat of the Oct. 21 match, a penalty-kick shootout will determine the champion. Grove City has the experience in shootouts having just defeated second-seeded Washington & Jefferson in PKs, 6-5, after 110 scoreless minutes. Sophomore midfielder Lindsay Hutton scored the decisive shootout goal vs. W&J.
Grove City is prepared because it plays a tough nonconference schedule. The Wolverines lost to No. 7 Carnegie Mellon, 1-0, this year and last year they had a losing overall record (9-10-2) despite going 8-1 in the PAC.
WHY THOMAS MORE WILL WIN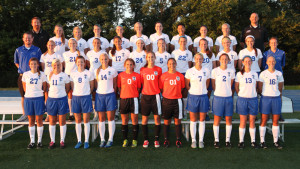 Teams just don't score on them. The Saints have 16 shutouts this year and the only goals they gave up were in wins over Hanover, 2-1, and DePauw, 3-1. Junior goalkeeper Megan Barton has a school- and PAC-record 12 shutouts this season (she also holds the career records with 26).
The PAC team that would most likely score against Thomas More was W&J, which ranked eighth in the nation with 4.0 goals per game, but the Presidents were ousted by Grove City in the semifinals.
Thomas More just has too much firepower. Senior forward Olivia Huber has 24 goals this year, which ranks eighth in the nation, and her 97 career goals broke a 14-year-old PAC record. Sophomore forward Julia Flagge-Echols has 22 goals on 88 shots and her 12 assists ranks ninth in the country. Compare those numbers with Grove City's leading scorer, senior Kristin Thomas, who has eight goals, seven assists and 49 shots.