Posted on November 6, 2015
PAC Men's Soccer Championship Preview: Westminster vs. Geneva
By Justin Zackal
There will be a new men's soccer champion in the PAC this year for the first time in six years. And you can thank the last school other than Thomas More to win the conference for breaking up the Saints' march of six straight PAC titles.
Westminster won the PAC crown in 2008 and since then the Titans qualified for the conference tournament twice, losing both times in the semifinals, 4-0, to Washington & Jefferson in 2009 and Thomas More in 2012.
However, matching the last six years of Westminster's playoff futility with Thomas More's six-year run of success meant nothing on Wednesday. Fourth-seeded Westminster (11-5-3) upset top-seeded Thomas More (16-2-1) in the semifinals with a dramatic, last-minute goal to win 2-1 and advance to the championship game.
Well, if anything it means Westminster now has the confidence that it can beat anyone, including Thomas More, the No. 2-ranked team in the country. The Titans play at second-seeded Geneva (12-4-3) Saturday at 7 p.m. at Reeves Field in Beaver Falls, Pa.
Here are three reasons why each team will win:
WHY WESTMINSTER WILL WIN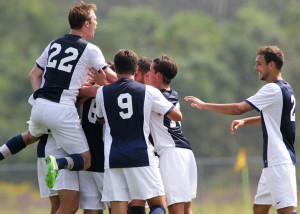 Momentum is propelling the Titans to finish strong. The excitement from sophomore Zack Walters' game-winning goal over Thomas More, just three minutes after the Saints tied game, will provide Westminster an emotional rush. In addition, the Titans are riding a four-game win streak that followed a three-game losing skid.
Experience. Westminster's most productive players are seniors. That includes midfielder Matthew Kiernan, who ranks sixth in the PAC with 11 goals; forward Marcus Gargiolo, who is tied for third in the league with seven assists; and goalkeeper Tyler Little, whose .820 save percentage and five shutouts are a PAC-best.
The Titans don't have to rely on their most productive players either. Anyone is capable of stepping up in their system. Senior Eric Michalski scored his first career goal in the win over Thomas More and 17 different Titans have booted goals this year, including 11 players with one goal apiece.
WHY GENEVA WILL WIN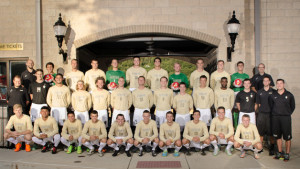 Yes, Westminster has more seniors (11 to Geneva's five). And, yes, the Golden Tornadoes are led by sophomore scorers (Abel Carleton's eight goals and Josh Brenize's seven assists) and a freshman goalkeeper (Luke Nolan). However, Geneva has PAC tournament experience. The GTs have qualified for the PAC tournament in each of the last four years. Westminster's success is new, perhaps surprising. Geneva expected to be here.
Geneva playing at home will be an advantage. The GTs are 8-1 at home this year, best in the PAC. Geneva and Westminster tied, 1-1, in their regular-season meeting, with Carleton scoring in the 25th minute and Kiernan in the 87th, but that was in New Wilmington. Geneva also outshot Westminster, 20-11.
Geneva is happy to play Westminster, and not Thomas More. The Saints ended the GTs run in the PAC tournament in each of those last four tournament appearances, including the finals in 2011 and 2012. Also, Geneva hasn't lost to Westminster in their last seven meetings, going 5-0-2 since Westminster last won in 2008.