Posted on November 24, 2015
Remember Him? Former Bethany Coach Andrew Sachs Off To Great Start At Salisbury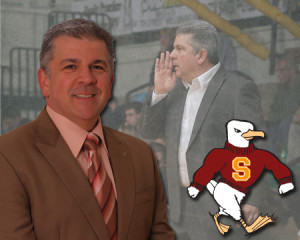 Following a  successful six-year tenure as the men's basketball coach at Bethany College, Andrew Sachs is now the head man at his alma mater, Salisbury University. Sachs led the Bison to 117 victories, two PAC championships and two appearances in the NCAA Tournament. Sachs was named the new head coach at Salisbury in June and is already racking up the wins with the Sea Gulls this season.
When the PAC Sports Network began broadcasting the PAC Basketball Game of the Week during the 2011-12 season, the Bison were in the process of capturing their second straight conference title and we followed the league champs to St. Mary's City, Maryland for their NCAA tournament game against St. Mary's College of Maryland. During our travels across the conference interviewing players and coaches, you could always expect an honest and candid interview with Coach Sachs.
As the head coach at Salisbury University, Sachs has continued his success as the Sea Gulls are off to a 4-0 start which includes a pair of wins at the Hoopsville National Invitational Classic last weekend against Southern Vermont and DeSales. Hoopsville's Dave McHugh sat down with coach Andrew Sachs following the Sea Gulls 60-59 victory over Southern Vermont. You can see what Coach Sachs is up to now by watching the video below.