Posted on December 6, 2015
Saint Vincent's Susie Ellis Makes Seamless Transition From One Court to Another
By Justin Zackal
Twenty days. That's how long Susie Ellis had to win a pair of PAC tennis championships and then earn a spot in the starting lineup for the Saint Vincent basketball team.
Not only did she win the No. 1 singles title, the No. 1 doubles and PAC Player of the Year honors in tennis on Oct. 24, but she also scored a whopping 30 points in her debut in the basketball team's starting lineup during an 84-62 win vs. Allegheny on Nov. 13.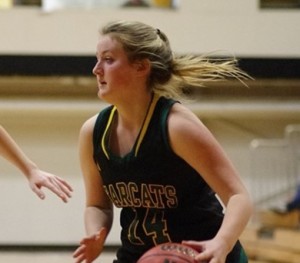 But when talking to Ellis about her transition from tennis to basketball, you quickly realize this all didn't happen in less than three weeks.
"I worked hard on basketball during the offseason, even when I was in tennis (season), I'd shoot around and play pickup (games)," Ellis said. "As soon as I was done with tennis I had to focus on basketball right away. I worked really hard at practice, hoping I would get more playing time this year."
Ellis, a 5-foot-5 junior guard, averaged 4.4 point and 8.8 minutes in 19 games last year. Through the first seven games this year, she's leading the team in points (14.1) and minutes (29.9).
Her preparation also took place over the summer, when Ellis played on a summer-league team that played three times and week while playing tennis five times a week. You don't have to be an accounting major, like Ellis, to know there are not enough days in the week to train.
Somehow, she did it, winning her last 12 singles matches of the season to finish with a 13-2 record, despite finding time to play basketball a few times per week.
"Tennis is a lot of footwork and quick movements and that has helped me with basketball, and it helped me stay in condition," Ellis said. "Playing basketball has helped me bring more of that teamwork and togetherness into tennis."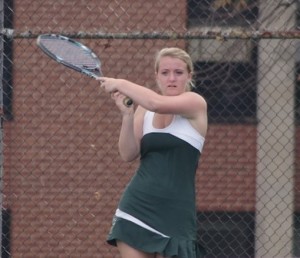 Ellis admits she's more relaxed on the tennis court, but that's doesn't mean she prefers one sport or even that she has a different personality while on one court compared to the other.
"No, I wouldn't say so," Ellis said. "I'm very competitive. I hate losing. I'll be very angry if I lose at anything. I try to be positive. I work hard in practice every day."
Ellis has exceeded her own expectations. She didn't play tennis as a freshman because she didn't think she'd be able to handle two sports and class work, but after having outgoing tennis coach Dr. Christopher McMahon for theology class in the spring of her freshman year, and talking to incoming coach Jym Walters, she decided to come out for the team the following year.
"I never would have expected to be PAC Player of the Year," Ellis said. "My teammates, they pushed me to be a better player, so I owe a lot of my success to them. They are always supporting me and also my family and coaches."
"I'm very happy I play both sports," she added. "I would regret it if I played one."