Posted on December 28, 2015
Westminster's Lone Senior was a Rare High School Athlete
By Justin Zackal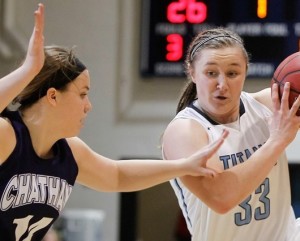 Writing an article about Andrea Marsh, the Westminster women's basketball player, could start by asking a few questions that, in retrospect, would seem hilarious upon finding out what Marsh did in high school.
"As the only senior on the Titans this year, Andrea, do you feel isolated or pressured because of your status on the team?"
"Because you don't seem to shy away from contact, was it hard to get used to the physical play of the college game?"
"Would you be embarrassed by having media attention, even from a profile for the PAC Sports Network blog?"
A "Faces in the Crowd" profile in Sports Illustrated four years ago would answer all these questions (No, no and no). Marsh was recognized by the magazine for her achievements on her high school team – her high school football team.
Marsh was an all-state safety for the Panama Central (N.Y.) High football team, helping lead the Panthers to a 5-3 record as a senior with a team-high four interceptions and ranking fourth on the team with 55 tackles.
"It was an experience like no other," Marsh said. "Looking back it was really cool, but at the time it was like 'Ugh, man, this is annoying and having all this news and stuff.'"
To outsiders, Marsh was known as the girl football player, but "not to my team," she insisted.
"My teammates, they were like my brothers," said Marsh, who began playing football when she was 9 years old to be like her older brother. "I fell in love with it because you can go out there and just hit people."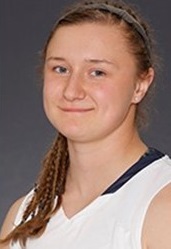 Right now, Marsh is concentrating on being a leader and improving her Westminster team. A 5-foot-8 forward, she played in 23 games as a freshman and then sustained a broken hip that needed surgery as a sophomore. Marsh is now in her second year as a starter, averaging 4.5 points and 3.4 rebounds per game.
"Each year has been a learning experience," said Marsh, mentioning the team's recent struggles (0-8 this year, 7-20 last year and 15-11 during the year she was injured). "It's definitely gotten me to come in contact with adversity and learn how to face it and be part of something that is bigger than myself. It's been a great experience."
Marsh's experience playing football also helped her as a college athlete. Sure, laying out a 230-pound running back with a bone-crushing tackle was a memorable moment. But football instilled something more important.
"For me playing football, I definitely had to work a lot harder," Marsh said. "I put in time in the weight room and watching film and being on the field with my teammates. I always felt like I had to prepare a little more. Putting in that extra work allowed me to come here and know what it's like to put in work and be the worker, be the hustler. Obviously, I like being physical so setting screens and playing defense [means that] I'm not afraid of contact. It definitely prepared me."
But you won't see Westminster's football coaches recruiting her to return to the gridiron.
"They joked about it," Marsh added, failing to hold back a smile. "In the weight room one day they saw me because we were maxing out and they were pretty excited and said 'Maybe we need you to come play safety.' I was like 'I appreciate it, I'm flattered, coach.'"