Posted on January 4, 2016
New Thiel Football Coach Has Common Bond With PAC Coaches
By Justin Zackal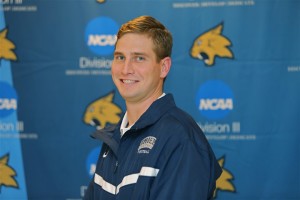 Dan Blume is the newest head football coach in the PAC, hired by Thiel College last month. However, three other head coaches in the PAC already claim a few of Blume's seemingly distinctive qualities. The 31-year-old Blume is young and he played linebacker at Division III college powerhouse Mount Union ('06) after starring at Plum High School ('02) in Pittsburgh.
In the early 1990s, Washington & Jefferson's Mike Sirianni played for Mount Union while Westminster's Scott Benzel was playing at Plum. Blume won't even be the youngest head college coach in Mercer County, let alone the PAC, as Andrew DiDonato, 28, is taking over at Grove City next year.
"I've had conversations with (Benzel and Sirianni) already," said Blume, who is in his fourth week on the job. "Knowing some of the guys makes it more exciting and challenging."
Benzel reached out to Blume to congratulate him and offer advice. Benzel was once the new, young coach in the PAC just two years ago.
"I just told him to be himself," Benzel said. "He'll do a great job. You have to be patient, which is hard. For young guys, that's always the hardest thing."
"He gave me a forewarning that the first couple months are the hardest," Blume said. "The most surprising thing (with) taking on the position is the whirlwind of the meetings and the phone calls and things you have to do that are so much more administrative. You're never quite prepared for it or realize it as an assistant coach becoming a head coach for the first time."
Though Westminster and Thiel won't face each other in conference play next year, the two coaches are making arrangements (see administrative duties) to scrimmage in the preseason the next few years.
Separated by nine years at Plum, Blume remembers as a youngster watching Benzel's teams play. Also, coincidentally, Benzel played in college at Mercyhurst University where Blume coached for four years as linebackers coach, including the last two as special teams/recruiting coordinator.
Other notable Plum alumni in the coaching ranks include Mike Miller, the former Arizona Cardinals offensive coordinator who recently held that role at Edinboro University in 2014, and John Wojciechowski, who's in his fourth season as a college scout for the Green Bay Packers.
While there is familiarity with the rest of the conference, Blume is most comfortable with his new colleagues at Thiel.
"The best thing about the job so far is the people and that's the main reason why I took the job," said Blume, who hasn't spent much time with the players because of the semester break, but he mentioned several school administrators and staff. "They've welcomed me and adapted well with change."
Blume has many challenges ahead, taking over a program that went 15-55 in the last seven seasons under Kurt Reiser, including Reiser's best record of 4-6 last year.
"The biggest challenge is going to be getting the guys to believe that we can win," Blume said. "That's the biggest obstacle in year one, then down the road we've got to do a good job of recruiting and retaining and developing our players. They just had to play so many young guys here the last few years. They haven't had a chance to really develop guys and bring them along."
Thiel won the PAC with a record of 11-1 in 2005. If Blume can return the Tomcats to that type of success then that will certainly be his ultimate distinction among the league's coaches.