Posted on March 10, 2016
PAC's Two Newest Athletic Directors Discuss the Division III Experience
By Justin Zackal
The two newest athletic directors in the PAC are entering their third full month on the job after being named to their roles in December 2015. With the sports seasons changing, this is a great time to get to know these leaders and their views of Division III athletics.
TODD GIBSON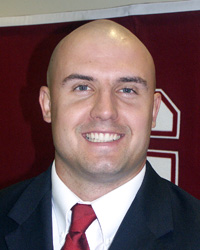 Director of Athletics at … Grove City College
Hired … December 18, 2015
Other duties include … head coach of the men's and women's track and field teams.
Before becoming AD … he was Grove City's interim AD after Dr. Don Lyle retired earlier in 2015.
Joined the department … in July 2010 as full-time assistant professor of physical education and exercise science when he was promoted to head track and field coach. Other previous roles included … assistant track and field coach for two seasons and assistant football coach for 10 years.
College degrees are … in political science at Grove City and integrated social studies/secondary education at Youngstown State, as well as a master's in exercise science at California University of Pennsylvania.
As a student-athlete … he was a split end on the Grove City football team from 1998-2001, including two years as a starter and the team's leading receiver as a senior.
AMY SCHAFER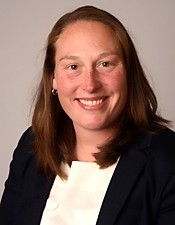 Director of Athletics at … Thiel College
Hired … January 1, 2016
Other duties include … senior woman administrator (SWA), a role she's held since 2009, and she's in her fourth year as the chair of the Health & Physical Education Department.
Before becoming AD … she was Thiel's associate director of athletics, starting in 2014, and compliance and eligibility director, beginning in 2012.
Joined the department … as the head softball coach in 2005 until she resigned to become exclusively an administrator after the 2015 season.
Other previous roles included … Thiel's assistant director of athletics.
College degrees are … in physical education at Bethany College and a master's in sport management at California University of Pennsylvania.
As a student-athlete … she was a catcher for the Bethany softball team, earning All-America honors in 2002 and three all-region and first-team all-PAC laurels as from 2001-03.
HOW THEY ARRIVED
Just because Gibson and Schafer are contemporaries –– arriving in the AD's chair in their mid-30s with coaching backgrounds –– doesn't mean they followed the same career progression and goals. But they both have the same appreciation for the role.
While serving as interim AD, Gibson was approached by school administration regarding the vacant job.
"If you'd ask me 24 months ago, I would've not at all thought that I'd be doing this," said Gibson. "But I think sometimes when you're put in situations you're blessed to find your calling. Just being able to be around 400 athletes rather than (track and football) was really exciting, and more and more I've really enjoyed being around the coaches and the staff that work in athletics and administration as a whole at the college. It's become really fun to me to be part of developing a vision."
Schafer took a more deliberate path, plotting out her career as an administrator even before she left the coaching profession. In 2014, she was one of 12 individuals selected to the NCAA Pathway Program, which assists administrators who wish to become directors of athletics through education, training and mentoring.
"I sat down one day and was like, 'I like this administration a little bit more,'" said Schafer, who increased her administrative duties in earnest upon getting her master's degree from Cal U. "From there everything was just picking up each year, different titles and different duties. It was a good way from the education side to refine some of my skills. And from an experience side, Thiel did a great job in allowing me to develop my interest."
Being former student-athletes in the PAC helped Gibson and Schafer as leaders charged with enhancing the student-athlete experience.
"It affects every decision that I make every day," Gibson said. "So having been a student and an athlete at Grove City and also being a coach at Grove City, I think having worn all those hats helps me in my deliberation process and thinking things through."
Schafer also sees a correlation between her experience as a softball catcher to her career as an administrator, saying with a bit of levity, "You tell everyone what to do, managing everything and having your hand in everything that you possibly could."
STATE OF DIVISION III ATHLETICS
A common thread when evaluating the Division III landscape is how much Gibson and Schafer stress the heightened competition and expectations. Gibson, who remains head track and field coach, must continue to meet the demands of recruiting.
"The recruiting process is taking on more of a Division I-type model, meaning extremely competitive between schools and between coaches and a lot more high pressure with enrollment demands, at private institutions especially," Gibson said. "There's a lot of pressure I see on coaches to win games but also to recruit successful students for the colleges. I think that's a change from the past."
Managing Division I-type expectations is just one of the many challenges for athletic directors. By overseeing the coaches, who are managing the expectations of student-athletes, the tone of an entire athletic department is set from the top. For Schafer, that means adding as much value to the student-athlete experience as possible.
"(Prospective student-athletes) feel like it's going to be like D-1; it's not," Schafer said. "(It's about) finding ways to create an atmosphere for the student-athletes and make them feel like they really do matter. So it's finding a way to create an atmosphere and add that value because they are here to get an education and not just play sports. I try to tell the coaches to get everything out of it. Make it flashy."
Social media have heightened expectations, from both the responsiveness in communication to exposing the arms race of what schools offer their athletes. Gibson noted how he's better off using social media or text messaging to communicate with his athletes rather than phone calls, while Schafer said that when coaches and students-athletes see other schools exhibiting some of that added value on social media, there is a prevailing 'Why can't we get that?' response.
However, the desired outcomes of Division III athletics remain the same.
"I don't know the values have changed that much," Gibson said. "When I was participating in athletics here, we wanted to win, we wanted to have great relationships, we wanted to be good students, all of those things still hold true.
"The great advantage about Division III is, speaking for Grove City, is we have individuals who are very passionate about developing a culture that is going to cultivate more positive contributors to our society. If you're playing Division III sports you have a passion to do it. We're very fortunate to work with student-athletes in that capacity."