Posted on May 11, 2016
PAC Baseball Tournament Preview: The Starting Nine Topics
By Justin Zackal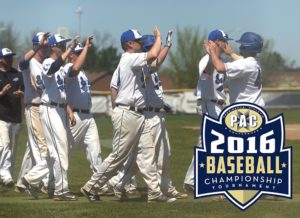 Three of the four teams that played for last year's PAC baseball championship return to Thomas More this year as the top-seeded Saints will once again host the four-team, double-elimination tournament May 12-14.
Thursday and Saturday's games will start at noon and 3 p.m., while Friday's slate will feature games at 10 a.m., 1 p.m. and 4 p.m. The PAC Sports Network will deliver live video broadcasts of all of this year's games at pacstream.net.
Despite the same location and similar teams as last year, there are different storylines. Here is the lineup of "starting nine" topics to follow this weekend:
#1 – OFFENSE
Thomas More (26-9, 20-4 PAC) is the best offensive team in the PAC this year. The Saints' .347 batting average ranks fourth in the nation, led by junior outfielder Casey Metzger, who ranks second in the PAC with a .437 average.
"That's kind of our forte," said Thomas More head coach Jeff Hetzer. "That's one thing we can usually count on from year to year."
But what's different about this year's team is…
 #2 – DEFENSE
The Saints improved their fielding percentage from last year's .945 (seventh in the PAC) to .966 this year (30th in the nation).
"Our defense has vastly improved," Hetzer said. "I think that's been really good for us and a dramatic difference from last year to this year."
Only third-seeded Washington & Jefferson (24-15, 16-8 PAC) has a better fielding percentage at .968 (20th in the nation). The Presidents rely heavily on their defense because…

#3 – PITCHING
W&J pitchers allow the fewest walks (2.3 per 9 innings) but also the fewest strikeouts (4.5 K/9 IP). More things can happen when the ball is in play, so it's impressive that the Presidents are able to maintain a 4.25 ERA (PAC average is 5.40). Second-seeded Thiel (28-12, 17-7 PAC) is tops in the PAC in ERA at 4.20, led by senior all-region left-hander Matt Elko (1.81, 5-1), although he hasn't pitched in three weeks and his status is in question. The Tomcats strike out more batters (6.26 K/9 IP), but so does Thomas More (6.32 K/9 IP) and pitching is the Saints' weakness.
"If there's a dent in our armor it would be the pitching," Hetzer said. "It hasn't been good. The ERA shows that (5.80 ERA, seventh in the PAC). That's one thing we worry about."
Despite the worries, Thomas More won't try anything desperate, like pitching games by committee. The teams in this year's tournament will remain steadfast with what got them here because of experienced…
 #4 – COACHING
There's a reason why the tournament field is so similar to last year and that's continuity from the league's coaches. Hetzer is in his 16th season, while W&J's Jeff Mountain is in his 14th year and Thiel's Joe Schaly his 17th. Matt Royer may be the newcomer, leading fourth-seeded Grove City (25-14, 15-9 PAC) to its first tournament appearance since 2011 as the team's first-year interim coach, but Royer has more than 19 years of collegiate head-coaching experience. At 22-7 and 14-2 in the PAC, Royer led Grove City to its best start in team history, but that was before April 23-24 when the Wolverines were swept in three games in their last trip to Thomas More. Since then, Grove City has lost seven of its last eight PAC games, including all six to Thomas More and Thiel. The other three teams should be more confident based on…
 #5 – CONSISTENCY
W&J, having won 10 of its last 11, and Thiel, 9 of 12, enter the tournament on hot streaks, but Thomas More is the most consistent team in the league.
"The main thing for us has been being consistent and trying to get back to this spot," said Hetzer, whose team went 3-2 in last year's tournament, including a 17-5 loss to the W&J in the final game. "You can't win the conference unless you're in the conference tournament, so I think that's been the goal just to get back here and change the end result from the year before."
The Saints only lost consecutive games twice the entire season, and the latter occurred against W&J last weekend when Thomas More already clinched…
 #6 – HOME-FIELD ADVANTAGE
Thomas More is the only team in the league that has to stay in a hotel for all of its road conference games. Despite this, the Saints were 7-2 in those games and 13-2 at home.
"I don't know if it's a big advantage when it comes to baseball, but we wouldn't trade it," Hetzer said. "I think with our guys it's just being more comfortable when you're playing at home versus staying in a hotel."
If home field is not a huge factor, what does Hetzer think will increase his team's chances of winning?
 #7 – TWO-OUT HITTING
"Two-out hits are big in tournament play," he said. "You get momentum and you can keep (an inning) going, it really enhances your chances of winning. And, vice versa, if you can't get out of an inning on a 50/50 play and it continues, then it goes the other way as well."
Thomas More bats .322 with two outs, best in the league, while its batting average against with two outs is .295. Grove City bats .320 with two outs and W&J and Thiel are both at .281. Thiel is best at limiting opposing two-out hits at .283. The question is which player will provide those hits. Often in tournaments a player, sometimes an unlikely one, gets hot. But odds are it will come from…
#8 – THE HOT BAT
"You count on (your best guys) but some of the guys that maybe haven't done it all year could have a great three days," Hetzer said.
It's impossible to predict an unlikely hero, but one player enters the tournament hitting well, particularly against Thomas More. W&J junior outfielder Nick Vento batted .400 last week and he homered in all three games vs. Thomas More.
"He just lit up over the weekend," Hetzer added. "It seems like he lights us up every time he sees Thomas More; it's like a whiffle ball game to him."
Other candidates: Grove City's Andy Fritz and Matt Waugaman, the PAC leaders in batting average (.438) and homers (10), respectively, Thomas More's Ben Kenning, the RBI leader (47), and Thiel's Dan Koller, the hits leader (59).
But no one will remember statistical leaders; they only remember…
 #9 – WHO LIFTS THE TROPHY
Thomas More won three PAC titles (2010-11, 2014) since joining the league in 2006. Thiel and GroveCity haven't won since 2003 and 2008, respectively. W&J won its 10th PAC title last year, its sixth since 2004. As defending champs, the Presidents could be considered the team to beat.
To Thomas More, at least, it's a new tournament.
"We don't get caught up in all that and who we are playing," Hetzer said. "We are not looking back (at last year) and saying, 'Man, we can't wait to get W&J again,' because you don't know. It could be Thiel or it could be Grove City this year."