Posted on May 17, 2016
Top-Seeded La Roche Riding a Crescendo into the NCAA Mideast Regional
By Justin Zackal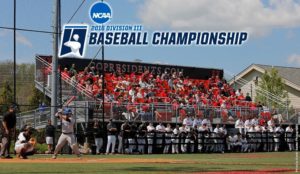 The La Roche baseball team just keeps getting better and better, improving its season win total each year since 2009. The Redhawks enter the NCAA Division III Baseball Mideast Regional riding a crescendo of success by making their fourth appearance at regionals since 2012.
Follow all the action as the PAC Sports Network (pacstream.net) will broadcast each game of the eight-team, double-elimination tournament from Washington & Jefferson's Ross Memorial Park May 18-22.
Let's go "around the horn" with La Roche head coach Chase Rowe, followed by a "quick pitch" for each of the other seven teams:
AROUND THE HORN
FIRST BASE. La Roche (36-9), ranked 12th in the nation, is the FIRST-ever Allegheny Mountain Collegiate Conference team to earn the No. 1 seed in a regional. After becoming the FIRST team in school history to win more than 33 games, is this team expecting to break even more new ground with a FIRST-ever trip to nationals? "I don't talk to the group about expectations," Rowe said. "They've wanted to win this regional since the first workout in the fall. That's been the expectation they put on themselves. This group has been hungry to make their own mark."
SECOND BASE. This will be the SECOND year that La Roche is playing in a regional at Ross Memorial Park. The Redhawks went 3-2 in last year's regional as the fourth seed before losing to Frostburg State, 8-4, in the championship game. La Roche has played 11 games (7-4) the last three seasons at Ross Memorial Park. "W&J is pretty much like a second home field to us," Rowe said. "It's a great place, we love playing there and we're excited to be back."
SHORTSTOP. The most important player on La Roche's team may not lead the Redhawks in many statistical categories (only his 28 walks). But, senior SHORTSTOP Colin Williamson (.337, 30 RBI, 6 HR) plays a critical role. "He's our leadoff hitter; he sets the tone," Rowe said. "He's the heartbeat for this group. He's the hardest-working, nicest kid, best student that you can get. He's just an all-around guy that kids look up to. He's the table-setter at the top of the lineup. When he's going good, we're really good. When he's struggling, we have to scratch and claw to win. He's the most important factor right now."
THIRD BASE. This is La Roche's THIRD straight regional appearance and the Redhawks have won 30 or more games in each of the last three years. Will they draw on this experience? "Not really. I think this group is much more staying in the moment right now," Rowe said. "We had a tough conference tournament. We had to come out of the losers' bracket after losing the first game and late in the regular season we were trying to put ourselves in a position from an overall record standpoint to get an at-large bid. We've been grinding games at least for the last three or four weeks. They are drawing from that a lot more than from last year or the previous year. Hopefully they'll keep the momentum going."
QUICK PITCHES
#2 RANDOLPH-MACON (32-6-1). The Yellow Jackets are ranked second in the nation, and second in the regional. The Old Dominion Athletic Conference champions don't have a proven track record, having never won a regional game in four other appearances (1977, 2008, 2011 and 2013). PLAYER TO WATCH: Senior third baseman Travis Lodge, the ODAC Player of the Year, ranks second in the nation in slugging percentage (.867).
#3 WOOSTER (34-11). The Scots, on the other hand, have that experience, despite making their first appearance since 2013. Champions of the North Coast Athletic Conference, Wooster's 28 tournament appearances are the fourth most in Division III, while the Scots have won five regional titles (1989, 1994, 1997, 2005, 2009) and have finished second twice (1997, 2009) or third once (2005) at nationals. PLAYER TO WATCH: The ace of the pitching staff for the last two years, junior left-hander Michael Houdek is 9-2 with a 3.00 ERA this year.
#4 THE COLLEGE OF NEW JERSEY (30-10). The highest seeded team with an at-large bid, the Lions come out of the New Jersey Athletic Conference, which produced three tournament teams this year. The Lions are making their first NCAA postseason appearance since 2009. PLAYER TO WATCH: Senior outfielder Patrick Roberts owns team highs in the key average stats – batting average (.392) on-base (.476) and slugging (.582) – and counting stats – hits (62), walks (24) and homers (6).
#5 OHIO WESLEYAN (27-14). An at-large team out of Wooster's conference, the NCAC, the Battling Bishops are making their first NCAA playoff appearance since 2008 and their 18th overall. PLAYER TO WATCH: Senior C.J. Tosino is a first-team all-NCAC outfielder who's batting a team-high .403, which ranks fourth in the NCAC.
#6 JOHNS HOPKINS (28-13-2). The Blue Jays, an at-large team from the Centennial Conference, are making 21st appearance in the NCAAs, including 12 in the last 16 years. Last year, they went 3-2 in the Mid-Atlantic Regional, falling short of their first regional title since 2010. PLAYER TO WATCH: Junior Conor Reynolds, a first-team all-Centennial shortstop, has more than 150 career hits and 125 career runs, both on pace to rank in the top-five in team history.
#7 ST. JOSEPH'S LONG ISLAND (24-11). Despite finishing fourth in their conference, the Golden Eagles grabbed an automatic bid by winning the Skyline Conference Tournament for the second time in team history. PLAYER TO WATCH: Senior utility player Nick Girardi, Skyline Player of the Year in 2015, earned second-team honors this year after batting .387
#8 WIDENER (24-16-1). The Pride automatically qualified by capturing their second Middle Atlantic Conference Commonwealth crown over the last three seasons. PLAYER TO WATCH: Junior second baseman Justin Healey is batting .366 and earned conference tournament MVP laurels by going 8-for-11 in the team's three wins.