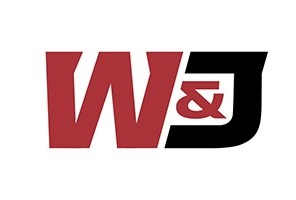 A diligent and creative process to develop a new brand and logo for Washington & Jefferson College Athletics came to fruition on Wednesday night. The brand and logo was unveiled to the public on WTAE-TV, Pittsburgh Action News 4 following months of preparation. The immediate response from the Washington community, students and alumni was more than favorable following the brand's unveiling.
The new brand was developed by SME, a strategic branding agency based in New York City. Among its clients, SME has produced logos and branding for the Atlantic Coast Conference, Miami Marlins and the Kentucky Derby.
"This is an exciting time for W&J Athletics," said Director of Athletics Scott McGuinness. "I would like to thank SME for the company's creativity and strategy during this process. Our committee considered valuable input from students and alumni to help us build an athletic logo program that encompasses the vast and rich history of this athletic department, but also keeps an eye towards the future."
The brand will be rolled out in phases over the next year as it is integrated into the athletic facilities expansion and renovations, added to team uniforms in line with the College's uniform replacement policy, and implemented throughout social media and web platforms. For the official W&J press release and a look at the team specific logos, click here.
The PAC Sports Network is proud to say it played a role in the editing of the "brand reveal video" which can be seen below. Congratulations to W&J Athletics for a great new look!