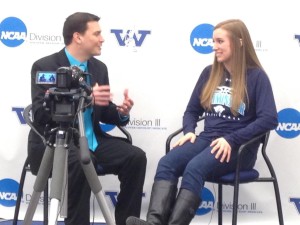 The PAC Sports Network began broadcasting in Fall 2011, designed to showcase athletics in the Presidents' Athletic Conference.  This year the PAC Sports Network celebrates its 5th anniversary. Over the years we have streamed numerous live championship events in the PAC, including men's & women's basketball, men's and women's soccer, women's volleyball, baseball and softball. In the the spring of 2015, PACSN also streamed the NCAA D-III Baseball Mideast Regional held at Washington & Jefferson's Ross Memorial Field.
The focal point of our broadcast coverage is the PAC Basketball Game of the Week, a weekly live stream featuring both men's and women's action.  Along with game action, we also produce packaged interviews with players and coaches that air at halftime.  For post-game coverage, we also interview the star player from each game that is presented on our Player of the Game page of the website.
To supplement our broadcasts, we also started the PAC Sports Network blog for fans to view between our live stream of games.  The blog page contains articles and feature stories on PAC athletes, coaches and seasonal events.
The PAC Sports Network is proud to partner with the Presidents' Athletic Conference and is excited to bring continued coverage to fans in the future.
* * * * * * * * * * * * * *
Award Winning Broadcaster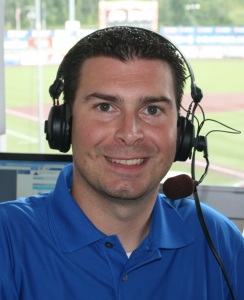 Randy Gore is the owner and primary play-by-play announcer for the PAC Sports Network. In addition to his work with the PAC Sports Network, Gore is also "The Voice" of the North Allegheny Tigers, covering a bevy of different high school sporting events. Gore is the Director of Media at North Allegheny where he produces updated content and information on North Allegheny's sports teams.
From 2005-2015, Gore served as "The Voice" of the Washington Wild Things minor league baseball team in the Frontier League. Gore was named the Frontier League Broadcaster of the Year in 2008 & 2011, and in 2014 received the Frontier League's Commissioner's Award of Excellence. Gore is also an accomplished newsman, winning 12 Associated Press awards at WJPA Radio in Washington. Of his 12 AP awards, eight have placed first in various news and sports categories.
Other voices you'll hear on the network include Nate Regotti,Dave Floyd and John Lydic. Regotti recently served as "The Voice" of the Pennsylvania Rebellion Professional Fast-Pitch Softball Team in Washington, PA and is a broadcaster for high school sports broadcasts in the Pittsburgh region. Patrick McKay is PACSN's producer and handles all the behind the scenes and technical aspects of the broadcast.
* * * * * * * * * * * * * *
General questions? Email us at info@pacstream.net.