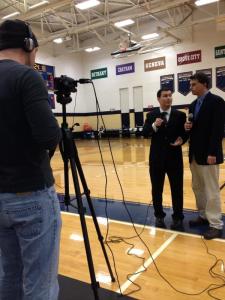 The PAC Sports Network began broadcasting in Fall 2011, designed to showcase athletics in the Presidents' Athletic Conference.  We started our coverage by broadcasting weekly basketball doubleheaders, featuring both men's and women's action.  Along with game action, we also produced feature pieces, aired during each halftime break.  Our season culminated with our coverage of the PAC Men's Tournament Championship Game, live from Bethany, WV.  The Bethany Bison defeated the Thomas More Saints to capture their second consecutive conference tournament title.  We also called a first round NCAA tournament game, featuring Bethany, live from St. Mary's City, MD.
We returned the following winter for our second season of basketball coverage.  To supplement our broadcasts, we also started our PAC Sports Network blog, for fans to view between our live stream of games.  Late in the season, we were in Latrobe, PA for the original Cram The Carey night at Saint Vincent College.   We also broadcasted our second straight PAC Men's Championship, as Saint Vincent defeated Thomas More for a trip to the NCAA Tournament.
In the spring of 2012, we offered an audio broadcast of each game of the Presidents' Athletic Conference Baseball Championships, live from Washington, PA.  Westminster swept through the field to win the conference crown and automatic NCAA Tournament bid.  We produced similar coverage in 2013, when W&J won the conference championship on their home turf.
* * * * * * * * * * * * * *
General questions? Email us at info@pacstream.net.