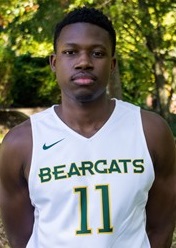 Men's Basketball – Saint Vincent
#11 Jaylon Bell
5-11 Senior Guard
Stat Line: 14 points, 4 assists
In a seesaw affair at the Carey Center, the Saint Vincent Bearcats secured their fourth straight PAC title with a 65-62 win over the Thomas More Saints. Trailing 44-42 with 10:54 remaining in the game, senior Jaylon Bell took over for Saint Vincent and spearheaded a decisive 21-9 run. Bell was held in check in the first half but scored 10 of his 14 points in the second half to lead the way toward another PAC championship. For his outstanding play in the most important game of the season, Bell was named the Foster Law Offices Player of the Game. PACSN's Matt Koll talked with Jaylon Bell after the game.