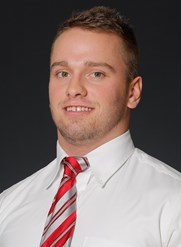 Baseball – W&J
#10 Nick Vento
5-10 Senior Outfielder
Stat Line: 3 for 5, 1 HR, 4 RBI
The W&J Presidents won their 11th PAC title with an 8-1 triumph over the Grove City Wolverines at Ross Memorial Park. The top-seeded Presidents were propelled to victory by senior Nick Vento who drove in four runs and belted a tape-measure three-run homer in the seventh inning that put the game out of reach. For his efforts, Vento was named the Foster Law Offices Player of the Game. The PAC Sports Network's Rob McKinney spoke with Vento and fellow senior Derek Helbing following the championship victory.