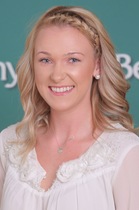 Women's Basketball – Bethany
#4 Kelsea Daugherty
6-0 Senior Forward
Stat Line: 22 points, 10 rebounds
The Bethany women's basketball team won its first PAC tournament game in six years with a 69-41 win over Geneva in first round of the league tournament. Senior forward Kelsea Daugherty was one of two Bison with a double-double on the night, posting 22 points and 10 rebounds. For her efforts on the glass and in the paint, Daugherty was named the Foster Law Offices Player of the Game for the second time this season.