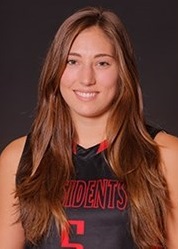 Women's Basketball – W&J
#5 Beka Bellhy
5-9 Senior Guard/Forward
Stat Line: 29 points, 8 rebounds
W&J locked up a double-bye in the upcoming PAC tournament with an exciting 90-84 triumph over rival Waynesburg. The determined play of senior Beka Bellhy, who scored a game-high 29 points, carried the Presidents to the win. Waynesburg trailed 81-79 with 1:47 remaining and was looking for the game-tying basket, but Bellhy came through for a huge block, and moments later, added a layup to give the Presidents an 83-79 lead and some much needed breathing room. From there, the Presidents put the game on ice for their eighth win in a row. For the second time this season, Bellhy was selected as our Foster Law Offices Player of the Game. The PAC Sports Network's Dave Floyd spoke with Bellhy on the court when the game went final.