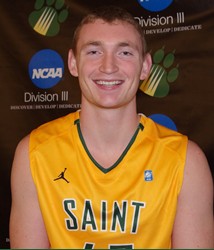 Men's Basketball  – St. Vincent
#45 Sean Kett
6-5 Senior Guard
Stat Line: 19 points, 9 rebounds
It was a three-peat in more ways than one for Sean Kett.  For the third time this season Kett earned our Foster Law Offices Player of the game, and more importantly, he helped the Bearcats to a three-peat in the Presidents' Athletic Conference. After a slow first half, Kett came alive in the second half and led SVC with 19 points and a game-high nine rebounds in the PAC title tilt with Waynesburg. The senior Miami, Fla. native averaged 18.7 points and 10.3 rebounds per game during the Bearcats three games during the run to this year's PAC title. Our Dave Floyd talked with Kett following the game.