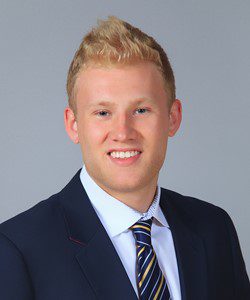 Men's Basketball – Chatham
#20 Will Sandherr
6-0 Junior Guard
Stat Line: 16 points, 3 steals, 3 rebounds
The Chatham men's basketball team earned its first ever win against the Saint Vincent Bearcats with a 70-64 victory. The Bearcats were picked to finish No. 1 in the preseason coaches poll but the Cougars stunned SVC in the PAC opener. The Cougars used an 11-2 run to take a 10-point lead at the half and led for the remainder of the night. Junior Will Sandherr, a transfer from Saint Vincent, was one of the offensive catalysts for Chatham and netted 16 points off the bench. For his efforts, Sandherr was named the Foster Law Offices Player of the Game. The PAC Sports Network caught up with Sandherr for a postgame interview following the win.