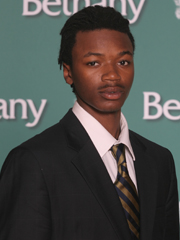 Men's Basketball  – Bethany
#5 Antonio Rudolph
6-1 Sophomore Guard
Stat Line: 9 points, 4 steals, game winning bucket with 0.8 seconds left
With the game tied 62-62 in the waning seconds, a shot by Bethany's Delonte' Joyce was partially blocked by the Geneva defense. However, Antonio Rudolph caught the off-target attempt in mid air and tossed it in the cylinder with 0.8 seconds remaining to lift Bethany to a 64-62 win. Rudolph finished with nine points and a game-high four steals, but his effort in the final seconds of the game made him an easy choice as our Foster Law Offices Player of the Game.