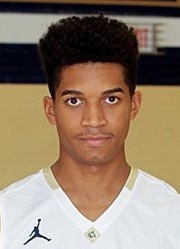 Men's Basketball – Thiel
#15 Nyric Gosley
6-2 Freshman Guard
Stat Line: 20 points, (2 of 2 on 3-pointers)
The third-seeded Thiel Tomcats advanced to the PAC semifinals with a 69-58 win over sixth-seeded Grove City. It was a tight game most of the night but Thiel pulled away in the final five minutes of the contest thanks in part to Nyric Gosley. The freshman guard netted a team-high 20 points on 8 of 11 shooting from the field. In a strong all-around performance, Gosley added four rebounds and three steals. For his efforts, Gosley was named the Foster Law Offices Player of the Game.