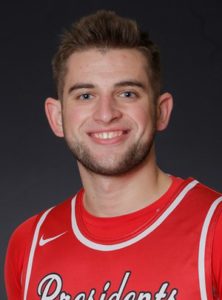 Men's Basketball – W&J
#24 Brian Graytok
6-1 Senior Guard
Stat Line: 16 points, 6 rebounds, 4 assists
The Washington & Jefferson men's basketball team earned its first season sweep of Waynesburg since the 2012-13 season with a 66-62 comeback win over the Yellow Jackets. Senior guard Brian Graytok led the way with a team-high 16 points on 7-of-11 shooting from the floor with 10 points coming in the second half. The senior added six rebounds and four assists to his line plus a steal in 26 minutes of action. The W&J win over Waynesburg marked the first time since the 2009-10 season the Presidents men and women's basketball teams swept the Yellow Jackets in the same regular season. For his role in that sweep, Graytok was named the Foster Law Offices Player of the Game.