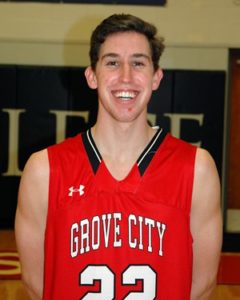 Men's Basketball – Grove City
#22 Zane Laws
6-2 Sophomore Guard
Stat Line: 22 points (5 for 5 on 3-pointers)
Grove City rallied from a 12-point deficit in the second half for a 75-69 win at Geneva. The comeback was sparked by the hot hand sophomore guard Zane Laws who came off the bench to fire in a career-high 22 points. Laws was a perfect 8 for 8 from the field, including 5-of-5 shooting from beyond the arc. For spearheading the come-from-behind win, Laws was selected as the Foster Law Offices Player of the Game.