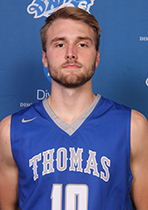 Men's Basketball – Thomas More
#10 Ryne Callahan
6-0 Sophomore Guard
Stat Line: 23 points, (6 of 13 on 3-pointers)
Thomas More busted open a close game with a 56-point second half for a blowout victory at Waynesburg, 95-56. Nine Saints touched the score sheet, including sophomore Ryne Callahan who totaled a team-high 23 points. Callahan was hot from beyond the arc, pouring in six 3-pointers. For his efforts, Callahan was named the Foster Law Offices Player of the Game by the PAC Sports Network.