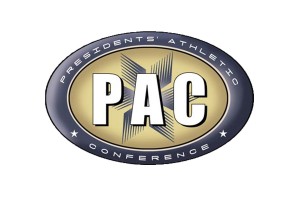 The Presidents' Athletic Conference (PAC), built on the basic belief that an athletic program is an integral part of college life, but not an entity in itself, looks back on sixty years of growth and ahead to years of continued academic and athletic excellence.
The league's name clearly reflects its founding principle that operational control of all aspects of intercollegiate athletics is ultimately the responsibility of the presidents of each member institution, and thus active presidential leadership and oversight is paramount in conference administration.
Formally organized in 1955 by Western Reserve University, John Carroll University, Case Institute of Technology, and Wayne State University, the PAC was the result of a realization that college athletics, despite numerous virtues for the individual and the institution, were gradually becoming a financial and academic burden. If athletics were to be continued, action had to be taken to place the program on its proper level. This included the premise that benefits of participation should be provided to as many students as possible. The PAC and its membership continue its original, defining mission of promoting intercollegiate athletics and the pursuit of academic excellence.
Institutions involved understand that the key components to its progress lie in the foundation of faith in each member by each other member. It is the conviction of its membership that the PAC is the solution to the dilemma of intercollegiate athletic competition, and they have staked their athletic future on this premise.
Currently comprised of 10 select private institutions – Bethany College, Chatham University, Geneva College, Grove City College, Saint Vincent College, Thiel College, Thomas More College, Washington & Jefferson College, Waynesburg University and Westminster College – the PAC remains a unique organization in this day of high pressure intercollegiate athletics, with academics at the center of each member's philosophy.
The PAC expanded its membership to seven members in 2005 with the addition of Thomas More, formerly a NCAA Division III independent. Saint Vincent, a former NAIA member, joined the conference in 2006 as it began its reclassification to NCAA Division III status. Another former NAIA member, Geneva, became the conference's ninth member and began league play in 2007 as it started its NCAA Division III reclassification. Chatham became the league's 10th member, also in 2007.
In 2012, the PAC Presidents' Council voted to add Carnegie Mellon University and Case Western Reserve University as affiliate members in the sport of football beginning with the 2014 season.
The PAC crowns league champions and awards all-conference honors in its 21 championship sports. Head coaches determine all-PAC squads for all team sports, while in individual sports, such as cross country and tennis, all-PAC accolades are based upon performances at the conference championships.
In addition to its 21 sponsored championship sports, the PAC partnered with the Heartland Collegiate Athletic Conference (HCAC) to create the single-sport Ohio River Lacrosse Conferences (ORLC & ORWLC) in 2014, with both kicking off league schedules during the spring of 2015.
The PAC, which recently celebrated its 60th anniversary, annually awards its men's and women's All-Sports Trophies to the schools which perform best across the board in PAC competition. The Waynesburg men and Grove City women captured the 2014-15 trophies.
Staying true to its original mission of promoting intercollegiate athletics and the pursuit of academic excellence, the PAC has seen nearly 200 of its participating student-athletes recognized as Academic All-Americans, while the league has also produced numerous NCAA Postgraduate Scholarship winners. Last year, the conference named 935 of its student-athletes to the PAC Academic Honor Roll, which recognizes all participating student-athletes who earn a term grade-point average of 3.60 or above.
During the 2014-15 academic year, nine PAC student-athletes were honored with Capital One Academic All-America® honors. Also, the Thomas More women's basketball program and W&J junior wrestler Nick Carr claimed NCAA Division III national championships in their respective sports.